School Uniform
The school colours are red and navy, and listed below are the items of uniform which your child is encouraged to wear. These are suitable for the varied activities in a primary school.
Please label and name all items of shoes, clothing and water bottles that come into school.
Sweatshirts and cardigans embroidered with the school logo is available from Brigade but this is not compulsory. Details for Brigade can be found below.
The last date before the summer holidays to order branded uniform with free delivery to school is Thursday 15th June 2023. From 16th June 2023 - 15th September 2023 home delivery will only be delivered. Non-branded uniform can be bought more cheaply from many supermarkets.
If your child wishes to have their ears pierced, the best time to get this done is at the beginning of the summer holiday so that the ears have time to heal. Children should be able to remove their earrings themselves or not wear them on the days that they have PE. Tape is only used to cover ears as a last resort and should not be encouraged.
Each term, we hold a uniform swap shops. This is to reduce the number of uniforms our families have to buy new and to stop old uniforms going to landfill. We ask families to bring in any good quality second hand uniform and this is made available for families to take what they need, free of charge. Our most recent uniform swap shop on Wednesday 28th September was a success, we plan to hold another in early 2023.
uniform
Wellies/ outdoor shoes should be provided and kept in school - we will always attempt to be outside in all weathers.
A set of spare/old clothing should be kept in school for use in outdoor learning activities - this does not need to be school uniform (an old tracksuit, warm sweatshirt and waterproof clothing is recommended).
Red school jumpers and white polo shirts - clothing with school logo is available in the school colours.
Navy/ Red fleeces may be worn (plain or with school logo) over jumpers in colder weather.
School trousers or skirts should be worn - not leggings (leggings/ tights should only be worn under skirts or dresses in colder weather. Cycling shorts may be worn under skirts in summer).
Tights should be navy or red.
Socks - should be plain and colours of school uniform
PE T-shirts- should be plain (preferably in the colours of their house team).
PE clothing should include shorts as well as plain jogging bottoms.
Jogging bottoms are not suitable for use on PE apparatus indoors.
shoes
Children should be wearing black school shoes- not boots.
Shoes should be fastened and stay on the feet- not slip on pumps.
School shoes should be flat- not heeled.
Children should have plimsols to wear in school or wear clean school shoes.
Trainers are needed for outdoor PE lessons
*It is important for all children to have a pair of trainers in school every day for completing the Golden Mile*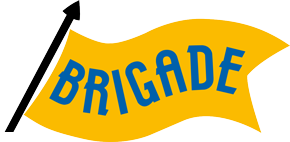 Uniform embroidered with the school badge can be ordered online through Brigade
Double Click To Change The Link